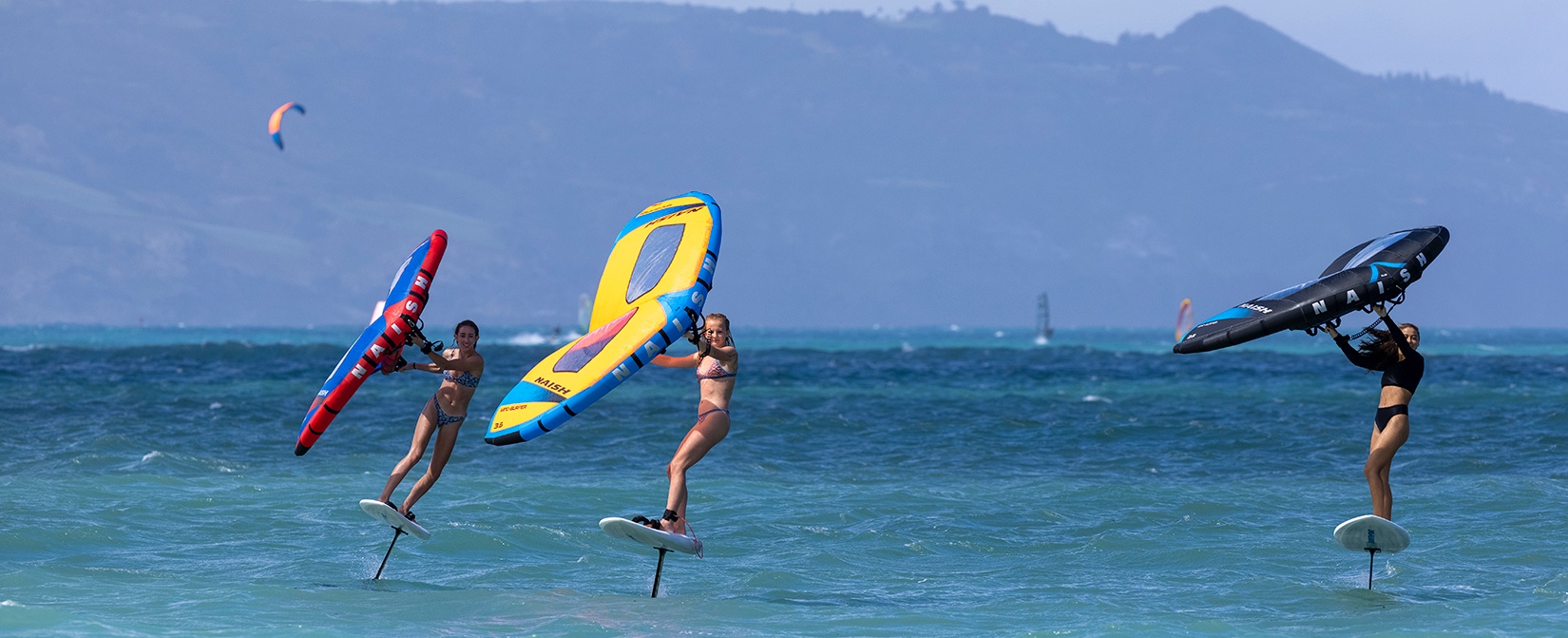 Urlaub...
---
Liebe Kunden. Wir stehen euch mit Rat und Tat zur Seite! Der Onlineshop ist auf einen neuen Server gezogen und leider sind viele Artikel dabei verschwunden. Zurzeit füllen wir den Onlineshop wieder auf und hoffen bald unser gesamtes Sortiment und mehr wieder hier präsentieren zu können. Falls euch im Augenblick etwas fehlt, ihr das gesuchte Board, Segel oder auch nur eine kleine Schraube nicht finden könnt, bitte schickt uns einfach eine Mail und wir kümmern uns darum!
Vielen Dank und vielleicht sehen wir uns bald wieder im Laden oder auf dem Wasser !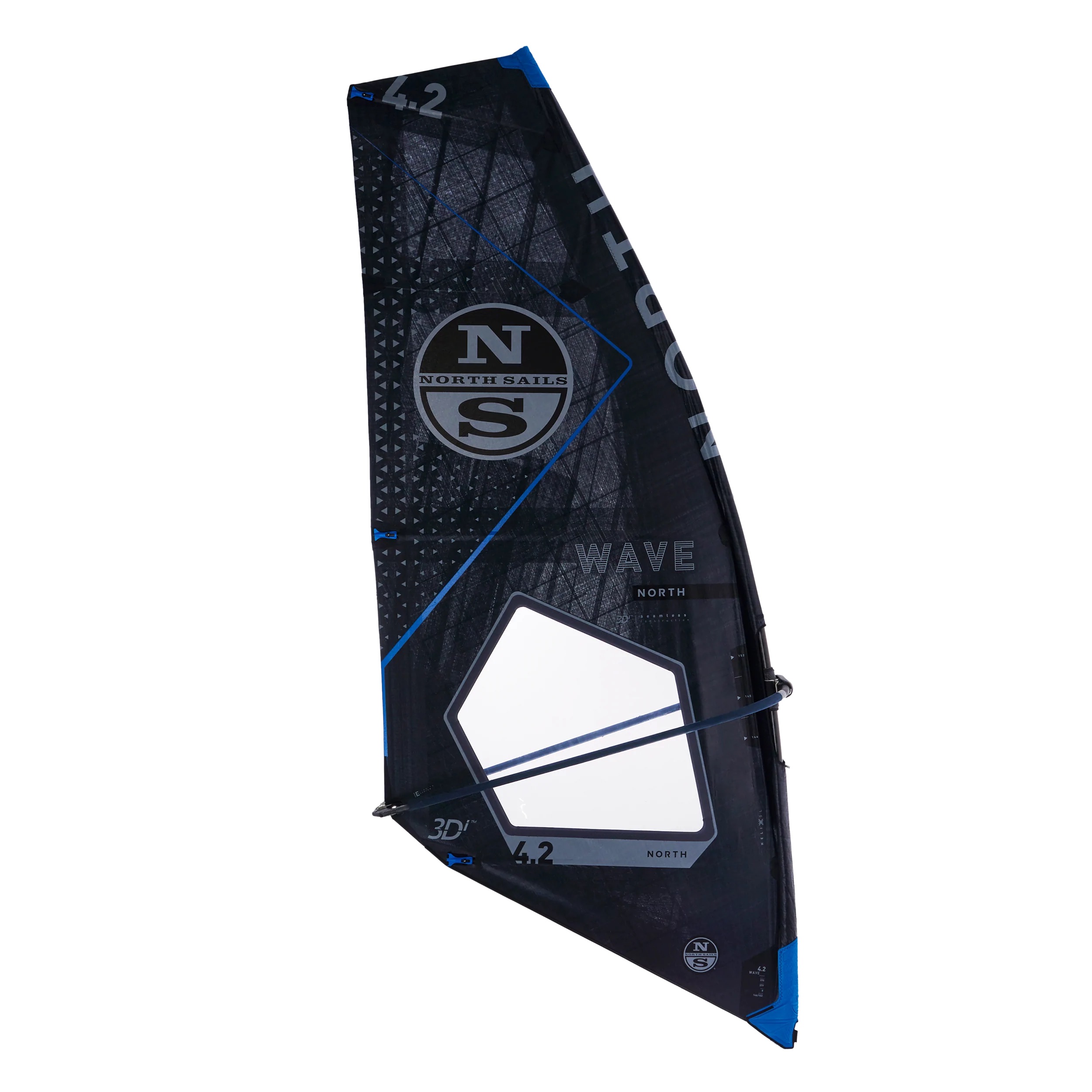 North Sails Wave Clear
Einfach nur WOWAngaben des Herstellers:Get ready for a new way to approach waves. The Wave Sail allows to be thrown around in maneuvers a lot harder, putting you in control with a construction to last. With North Sails' new Wave sail windsurfing has changed in ways you couldn't have imagined. For the better. This featherweight sail wants to be thrown around. Low swing weight gives you maximum precision while doing so, allowing you to surf as hard as you are willing to push it. No stitching, no seams. All moulded into one piece out of exclusive Dyneema Aramid Fibers, giving you a super strong sail that will be in your quiver for many years to come. This sail is designed for the most radical of wave sailors in the most radical of conditions, charging down the line with a very active sailing style. The waves are its home. Truly a wave sail unlike any other sail out there today. Revolutionary technology for windsurfing, brought to you exclusively by North Sails. Go Beyond. Features 3Di Molded Technology Integrated Material Reinforcements Integrated Batten Pockets Rock-it Batten Tensioner EZ Clew EZ Downhaul Wave Materials3Di Dyneema Aramid Tape Material Clear monofilm window 3Di Composite Luff Sleeve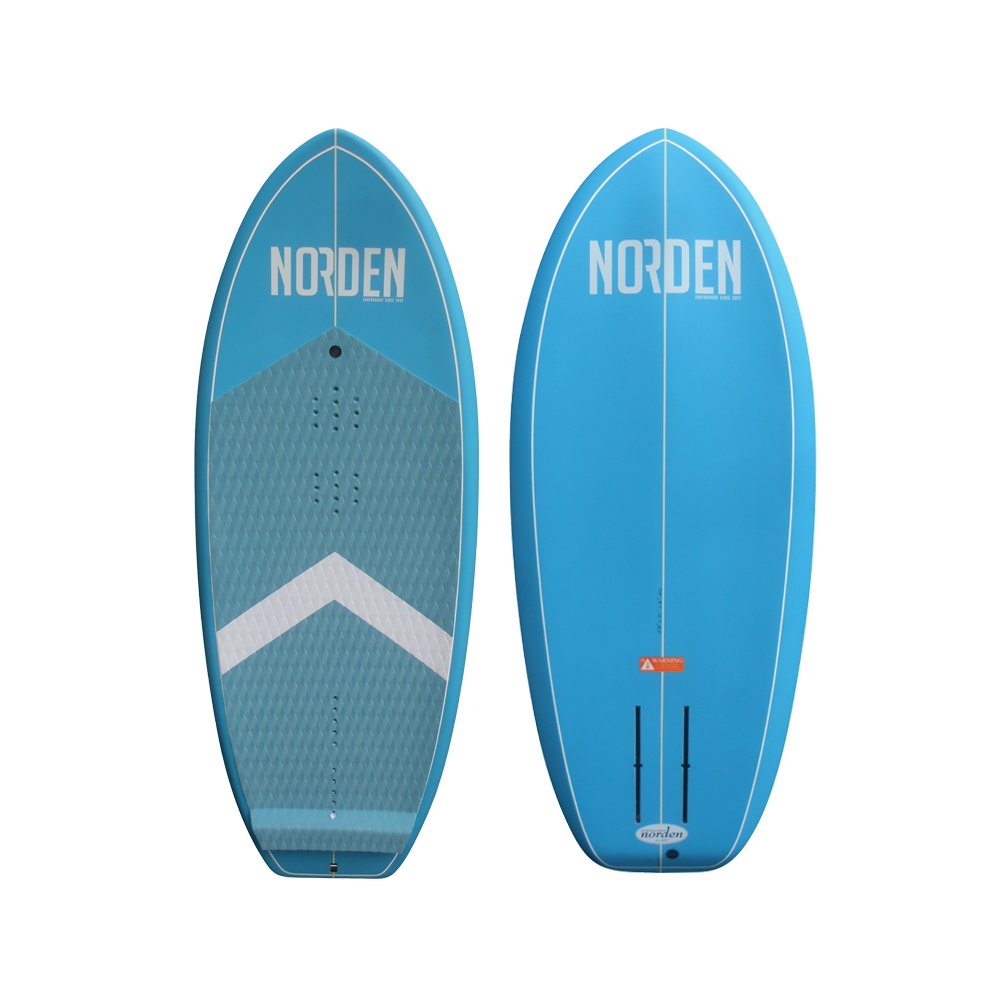 Norden Foilboard Futurama (Größen: 4'8 / 5'0) 2022
Das Futurama Foil Board kombiniert Wing-, SUP- und Surf-Foilboards in einem Shape. Die Größen 6´4 und 6´1 sind ideal für Wingfoil Einsteiger und diejenigen die eine Kombination aus Wing- und SUP-Foilboard suchen. Die Größen 5´5 und 5´2 sind hauptsächlich für erfahrene Wingfoiler designed, eignen sich aber auch sehr gut als Foilsurf Einsteigerboards. Die Größen 5´0 und 4´8 sind Surffoilboards, die sich für fortgeschrittene Fahrer auch sehr gut zum Wingfoílen eignen. Sucht ihr nach Boards, die mehr als nur eine Sache bieten, dann sind die Futurama Boards genau das Richtige für euch.4´8x 21x 3 (41l) SURF/WING5´0x 22 1/2x 3 1/16 (49l) SURF/WINGAusstattung: Double Wood Sandwich, EVA Deck, US Twin Boxes, GoreTex Valve SystemDOUBLE WOOD SANDWICH CONSTRUCTIONDie Double Wood Sandwich Bauweise bietet die beste Balance zwischen Stabilität, Langlebigkeit und geringem Gewicht. Wir benutzen hierbei 25 kg EPS Kerne mehrere Lagen Fiberglas Gewebe, eine Lage Bambus im Unterwasserschiff, sowie 2 Lagen Bambus an Deck des Boards um die maximale Stabilität zu erreichen. Das Hard-Coat Pigment Finish gibt dem Board eine robuste Außenhülle.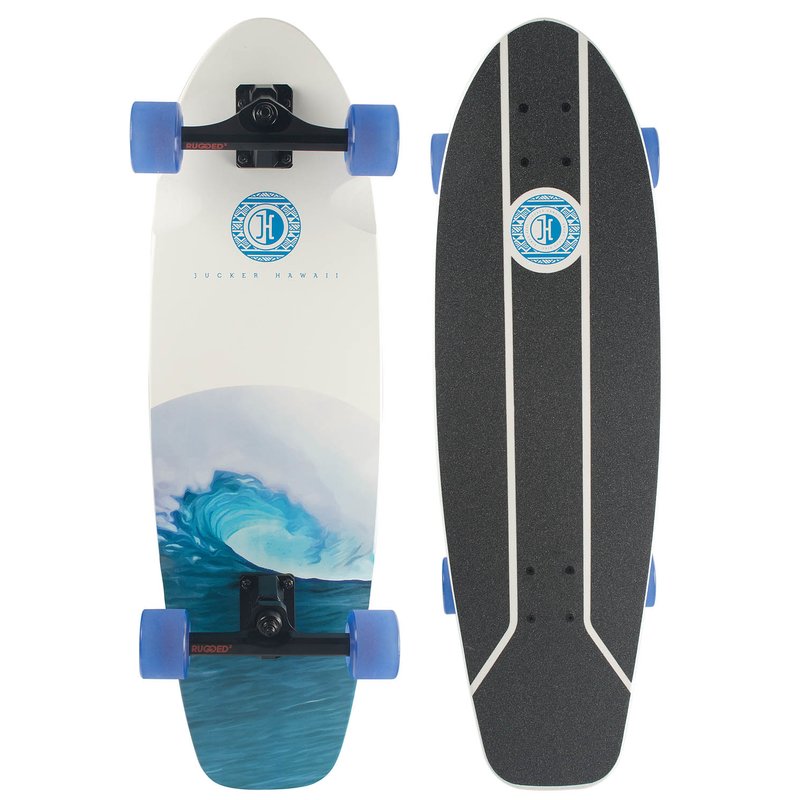 Jucker Hawaii Skate Surfer Nalu
Angaben des Herstellers:Der Skatesurfer ® kehrt zurück. Mit neuer Technik, neuem Design und einem ganz neuen Surfgefühl.Der Skatesurfer ® Nalu ist das ideale Board für alle Carver & Streetsurfer, die gern mit Leichtigkeit dahingleiten. Das Deck hat die optimale Länge, um jeden Turn schön auszufahren. Mit der superbeweglichen Vorderachse RUGGED² lassen sich aber auch engste Kurven und Manöver perfekt meistern.In wenigen Zügen lässt sich das Board aus dem Stand heraus pumpen und fließend ins Carving übergehen. Das Kicktail schließt die Lücke zwischen Surf- und Street Skateboard, sodass auch Tricks und Manuals kein Problem mehr sind.Die 65mm 80A Wheels sind grippig, aber nicht zu weich, sodass man schnell Tempo aufnehmen kann. Die bereits angeraute Oberfläche läd zum ein oder anderen Slide ein.Enjoy Your Ride!Spezifikation:Skatesurfer ® Deck NALU 9.25" x 31.2"Breite: 235mm / 9.25"Länge: 795mm / 31.2"Gewicht: 1450g / 3.2 lbsMaterial: Sieben Schichten kalt gepresster, kanadischer AhornConcave: lowGriptape: StandardNEW RUGGED² Skatesurfer Trucks 6.3Hangerbreite (Innen): 160 mm / 6.3 InchAchsstiftbreite (Außen): 230 mm / 9 InchHöhe (Achsstiftmitte): 70 mm / 2.75 InchBushings vorne: schwarz 90ABushings hinten: schwarz 95AGewicht Vorderachse: 480 gGewicht Hinterachse: 500 gBohrung: Newschool (41,28mm x 53,98mm) & Oldschool (41,28mm x 63,5mm)Farbe: SchwarzJUCKER HAWAII FOAM BALLSFarbe: Blau mit Wheel Print innen und außen auf der RolleDurchmesser / Diameter: 65 mmBreite / Width: 47 mmLauffläche / Contact Patch: 40 mmHärtegrad / Durometer: 80AUrethan: Street JuiceSpacer: 10 mm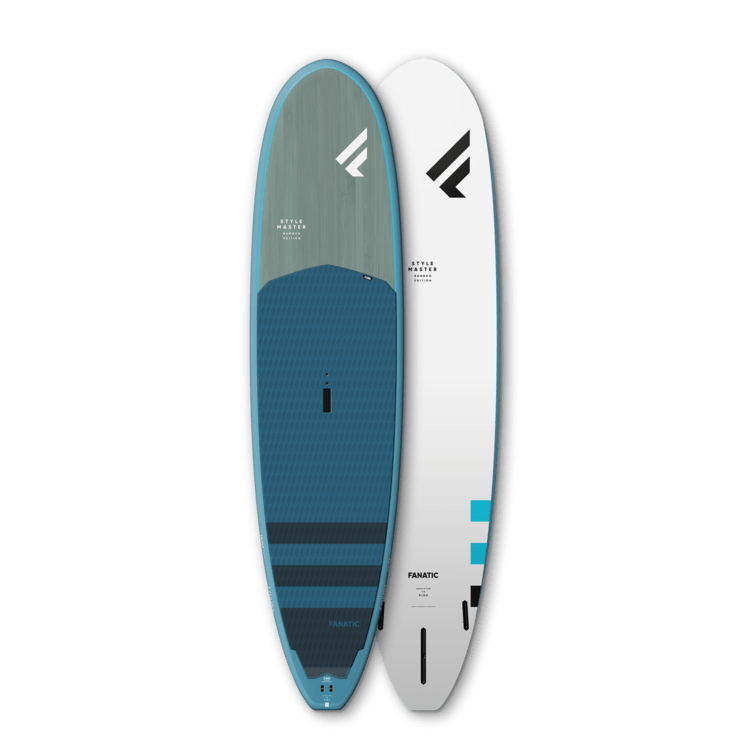 Fanatic Sup Stylemaster 2022
Angaben des Herstellers:Vom klassischen Longboard-Surfstyle inspiriert, lässt der edle Stylemaster Bamboo deinem persönlichen Stil freien Lauf – von griffigen Carves bis zum Noseride mit Hang-Ten.Als klassischer Noserider ist dieser Shape mehr vom Longboard-Surfen beeinflusst als jedes andere Fanatic SUP. Einfach zu paddeln und doch das voll ausgereifte Surf-Potenzial für tiefe Carves und die breite Nose und die höher gezogenen Kanten, kombiniert mit einer neuen Rocker Line, verleihen diesem Board den ultimativen Flow auf der Welle. Je weiter man auf dem Deck nach hinten geht, umso radikaler und gleichzeitig leicht-füßiger lässt sich das Board dank der dünnen, griffigen Rails, in jedem Turn carven.• Neue Rocker Line für schnellen und geschmeidigen Kantenwechsel• Super schmale Surfing-Style Rails für exzellenten Grip in den Turns und am Wellenhang• Schlankes Heck für Grip in den Turns• Flaches Deck für besseren Stand und mehr Stabilität• Klassische, harmonische Longboard-Outline und Scoop Rocker Line• Höher gezogene Kanten im Nose-Bereich für optimiertes Noseriding• Großzügiges und griffiges Deck-Pad für komfortablen Stand und geringen Wachs-Verbrauch• Eine leichte Bambus/Glasfaser Bauweise mit exzellenter Haltbarkeit und einzigartiger Optik. Durch spezielle Verstärkungen werden auch härtere Stöße absorbiert. Stabile, sehr leichte Bauweise mit einer edlen Holzoptik und ausgezeichnetem Preis/Leistungs-Verhältnis.LONGBOARD STYLESTYLEMASTERSIZES: 10"X28.5" /10"X30.5"